Cathay Pacific / HSBC Hong Kong Sevens 2014
| | |
| --- | --- |
| Tour Dates | 27-31 March, 2014 |
| Match Date | 28th to 30th March 2014 |
| Venue | Hong Kong Stadium, Hong Kong |
| Tour Duration | 5 Days/4 Nights |
Packages now on request. Contact our office on 1300 200 900 for more information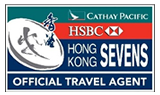 2014 will see another fantastic Cathay Pacific / HSBC Hong Kong Sevens tournament played and here is your chance to book one of our 2014 packages and find yourself immersed in everything Hong Kong has to offer - 3 massive days of rugby, partying and shopping.
In the 2013 edition of this tournament, reigning champions Fiji, were out to defend their title in the final against a determined Wales outfit. At half time Wales held a seemingly match winning 19-0 lead, but Fiji had other ideas and turned in one of their greatest performances to take out back-to-back titles with a 26-19 win. In other results from this great weekend of rugby action, New Zealand gathered some important points by finishing in 3rd place, Samoa again took out the Plate Final for the successive year, this time edging out Canada 12-7, England thumped the home town heroes of Hong Kong 42-7 in the Bowl Final, while France shook off Argentina 19-14 in the Shield Final.
Our Packages
Packages to the Cathay Pacific / HSBC Hong Kong Sevens 2014 include a minimum of four nights accommodation at a range of hotels located in either Kowloon or on Hong Kong Island, with a three day match ticket to the event, return airfares flying Cathay Pacific, return airport transfers (for group flights only) and official merchandise.
Twin share prices for this event start from just $1,999 per person. Extra nights, single prices and optional tours are available with these packages.
Match Tickets
Match tickets to the Cathay Pacific / HSBC Hong Kong Sevens 2014 are officially sourced through We Love Rugby - an official travel agent of the Cathay Pacific / HSBC Hong Kong Sevens 2014.
About the Cathay Pacific / HSBC Hong Kong Sevens
This tournament commenced in 1976 and is traditionally held during the last weekend of March. From 1982, this event turned into a national representative competition and has grown into the biggest event on the IRB Sevens calendar. Due to the fact it is one of Hong Kong's biggest sporting events, there is a tremendous party atmosphere that surrounds the weekend and fans from all over the world get into the spirit by dressing up.
Only a handful of nations have been lucky enough to taste glory here in Hong Kong with Fiji leading the way on 10 Cup wins, followed closely by New Zealand on nine wins, England come in next with four wins, Samoa have won three times and Australia two times.
Getting There
Package prices included flights to Hong Kong from Melbourne, Sydney, Brisbane and Perth. All applicable airfare taxes were not included and were invoiced closer to the event. Depending on where you are flying from, taxes can range from $350-$400. If you would like to depart from an alternative city or have booked frequent flyer flights, please speak with one of our team at the time of booking.
Group flights with Cathay Pacific did not allow clients to depart outside the dates advertised in our packages and if you wish to return on a different date, there was a cost of $100pp for a split fee and there also may be a fare difference increase. Once tickets have been issued, any changes incurred a minimum $200pp fee.
Getting to the Hong Kong Stadium is quite easy from our hotels with the MTR (Rail System) running to the Stadium from many locations throughout Kowloon and on Hong Kong Island.
All Packages include

Four (4) nights accommodation
Three (3) day ticket to the Cathay Pacific / HSBC Hong Kong Sevens 2014
Return economy airfares flying with Cathay Pacific (Sydney, Melbourne, Brisbane and Perth)
Return airport transfers (will only be received if group flights are booked)
Official Cathay Pacific / HSBC Hong Kong 7s official merchandise

Package rates are based on room configurations

Single room is for one person
Twin rooms include two separate beds
Double rooms are for couples and have one bed

Accommodation at

Room options

- On Request


Located in Northpoint close to Fortress Hill MTR, a five minute train trip to Causeway Bay and the HK Stadium. The hotel has a rooftop swimming pool and sauna

Single Room (1 Bed for 1 Person):

AUD2,325

per person
Twin Room (2 Beds for 2 People):

AUD1,999

per person
Double Room (1 Bed for 2 People):

AUD1,999

per person

This package is now on request. Please contact our office

- On Request


Superbly located in the heart of Tsimshatsui, one of Hong Kong's most popular shopping and business hubs, Hotel Panorama by Rhombus is amidst a vast selection of shops, boutiques, museums, restaurants, bars and entertainment centres.

Single Room (1 Bed for 1 Person):

AUD2,960

per person
Double Room (1 Bed for 2 People):

AUD2,340

per person

This package is now on request. Please contact our office

- On Request


Cosmo Hotel in Hong Kong is a modern hip hotel located on the convergent point of the popular Hong Kong shopping district "Causeway Bay" and the vibrant commercial district "Wan Chai"

Single Room (1 Bed for 1 Person):

AUD3,160

per person
Twin Room (2 Beds for 2 People):

AUD2,490

per person
Double Room (1 Bed for 2 People):

AUD2,490

per person

This package is now on request. Please contact our office

- On Request


The Cosmopolitan Hotel is conveniently located midway between Causeway Bay's major entertainment and shopping attractions and the commercial district of Wan Chai

Single Room (1 Bed for 1 Person):

AUD3,250

per person
Twin Room (2 Beds for 2 People):

AUD2,530

per person
Double Room (1 Bed for 2 People):

AUD2,530

per person

This package is now on request. Please contact our office

- On Request


The Novotel Century Hong Kong is located in the heart of Wanchai, the bustling commercial, shopping and entertainment district.

Single Room (1 Bed for 1 Person):

AUD3,380

per person
Twin Room (2 Beds for 2 People):

AUD2,685

per person
Double Room (1 Bed for 2 People):

AUD2,685

per person

This package is now on request. Please contact our office

- On Request


The Excelsior hotel is one of the island's most famous hotels for travellers looking to explore the energetic entertainment and shopping areas of Causeway Bay.

Single Room (1 Bed for 1 Person):

AUD3,890

per person
Twin Room (2 Beds for 2 People):

AUD2,865

per person
Double Room (1 Bed for 2 People):

AUD2,865

per person

This package is now on request. Please contact our office