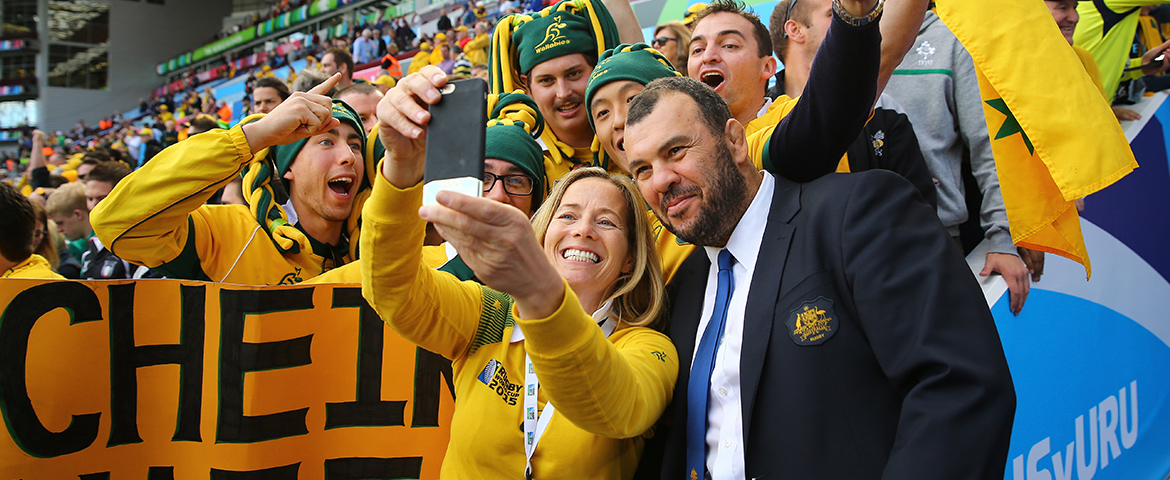 We Love Rugby is proud to be a Licensed Tour Operator of Rugby AU and an Official Travel Agent for Rugby World Cup 2019™, Japan. Touring with We Love Rugby is not just about a ticket and a hotel. Our ethos is to go the extra mile so that you have an all-encompassing rugby touring experience. As our name suggests; we love rugby and we love rugby touring.
Year after year we put our heart and soul into providing you with great rugby touring options, domestically and around the world. Our passengers continue to travel with us because, quite simply - we are the best in the business.
From operating tours since Rugby World Cup 1999, we know what makes a great rugby tour and what little inclusions can be added to make this tour your trip of a lifetime - we pride ourselves on it.
Year after year thousands choose to travel with us again and again, and countless lifelong friendships have been forged on our tours over the years.
Rugby World Cup 2019, Japan will be no different, as we journey together through the 'land of contrasts' – traditional versus modern, nature versus urban. Our tours will incorporate worldclass rugby along with Japan's iconic sights and providing opportunities to immerse yourself and connect with Japan's eccentric culture delving deeper into Japan's rich past, present and future.
In addition to the fascinating and unique country it is, here are a few reasons why Rugby World Cup 2019, Japan promises to be such a great touring experience with us:


We Love Rugby are Australia's largest rugby tour operator and one of the world's leading rugby travel companies.


We have extensive experience and contacts in Japan and around Asia from our previous tours including Qantas Wallabies v Japan 2017, Bledisloe Cup Tokyo 2009, Bledisloe Cup Hong Kong 2008 & 2010, and as of late Super Rugby tours.


With our Mid Tour Options program, you can pick and choose the destinations you would like to visit in between the matches to form your own custom made itinerary.


We are the Licensed Tour Operator of Rugby AU which enables us to provide exclusive entry to the Official Rugby AU function on the eve of the final in Tokyo.


We can also offer exclusive entry on some of our tours to team training sessions before matches


All our Escorted Tours include interaction and panel sessions with rugby legends and members of the current Wallabies squad


So please join us on tour for a first class experience in the land of the rising sun!
Regards,
The team at We Love Rugby
So What's Included in a We Love Rugby Tour?
While you'll be travelling with like-minded Rugby tragics, we recognise that everybody has a different idea of what makes up a great touring experience.
Some passengers like to be on the go all day, every day, while others prefer to take it easy - do things at their leisure, and even have a
rest day
every now and again.
We Love Rugby tours include match tickets, accommodation (including breakfast daily), coach transfers, as well as exclusive functions. Some Tours even include VIP access to attend an Australian training session!
But in terms of sightseeing we don't want to overwhelm our passengers with a demanding daily schedule of additional tours and activities.
Typically, our itineraries include a selection of
must see
sightseeing experiences that we have identified from years of Rugby touring. We know what our passengers have really enjoyed in the past, and we know you'll love it too – so we've included these as part of your Tour cost.
We wanted to give our passengers the chance to choose how they want to spend their days in between the Games. As such, there are a number of Mid Tour Options which are available with some of our escorted Tours.
Destinations on offer during the Mid Tour Options include Nagano & Kanazawa, Hiroshima & Hakone, Tokyo, Kyoto, Osaka and Beijing. However you want to spend your days, we have selected what we believe are some of the best destinations in Japan as well as an option to head to Beijing, China to see the Great Wall!