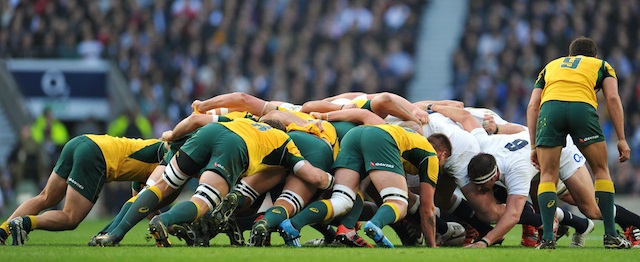 Overview
We will update details here as soon as more information is announced on this year's Spring Tour. In the meantime you can register your details below, & stay safe!
The Wallabies' tour of UK/Europe always delivers first class rugby contests at some of the most iconic stadiums in the world.
2020 Spring Tour Schedule
Below is the currently confirmed schedule for the 2020 Spring Tour:
Ireland v Australia
7 November 2020
Aviva Stadium, Dublin
France v Australia
14 November 2020
Stade de France, Saint-Denis
Italy v Australia
21 November 2020
Venue TBA
England v Australia
28 November 2020
Twickenham Stadium, London
Our Tours & Packages
In the past, we have offered two options for Spring Tour:
Match Packages
2 nights of accommodation
Match ticket
Merchandise
Escorted Tour
Our fully escorted tour has in the past included at least 2 Spring Tour matches, plus touring around Europe's famous cities including:
Accommodation
Match tickets
All internal transport and transfers
Sightseeing tours and attraction entries
Functions
Merchandise
Much more!
IRE V AUS
Ireland take on Australia at Aviva Stadium in Dublin on Saturday 7th November 2020. Aviva Stadium is the national stadium of Ireland and the playing venue of the Irish national team and has a capacity of 51,700 spectators.
The Aviva Stadium was built on the place of the old Lansdowne Road Stadium, which was one of the oldest stadiums in the world when it got demolished in 2007. Construction of the Aviva Stadium started right after and finished in early 2010.
Ireland have Australia have played 3 matches at Aviva Stadium since its opeing in 2010, with Australia winning the first match 32-15 in 2013 and then Ireland winning the two subsequent matches 26-23 in 2014 and 27-24 in 2016.
It has been two and a half years since the sides last clashed during Irelands three match tour of Australia. They will be making their way to Australia's shores again this July for a two Test Match series (with matches in Sydney and Brisbane) ahead of the return fixture in Dublin this November.
Summary of matches between Australia and Ireland
Matches Played:36
Won by Australia: 22
Won by Ireland: 13
Drawn: 1
Last 5 Matches
Saturday 22 November 2014 at Aviva Stadium, Dublin: Ireland 26 – Australia 23
Saturday 26 November 2016 at Aviva Stadium, Dublin: Ireland 27 – Australia 24
Saturday 9 June 2018 at Suncorp Stadium, Brisbane: Australia 18 – Ireland 9
Saturday 16 June 2018 at AAMI Park, Melbourne: Australia 21 – Ireland 26
Saturday 23 June 2018 at Allianz Stadium, Sydney: Australia 16 – Ireland 20
FRA V AUS
France take on Australia at Stade de France in Saint Denis (Paris) on Saturday 14th November 2020. The Stade de France is the largest stadium in the country with a capacity of 81,338 people and is home to the French national football and rugby teams.
Construction of the Stadium began in 1995 and was completed 31 months later ahead of the 1998 FIFA World Cup. Since opening it has hosted countless international sporting events (including the 2007 Rugby World Cup) and the world's biggest music acts.
The Stade de France is the only stadium to have hosted a football and rugby World Cup final.
It has been four years since the Wallabies last faced the French. On that occasion the Wallabies won a hard-fought match 25-23. France fly half Camille Lopez had a chance to win the match for France with a drop kick on the last play of the game however it drifted left of the posts.
Summary of matches between Australia and France
Matches Played:47
Won by Australia: 27
Won by France: 18
Drawn: 2
Last 5 Matches
Saturday 7 June 2014 at Suncorp Stadium, Brisbane: Australia 50 – France 23
Saturday 14 June 2014 at Etihad Stadium, Melbourne: Australia 6 – France 0
Saturday 21 June 2014 at Sydney Football Stadium, Sydney: Australia 39 – France 13
Saturday 15 November 2014 at Stade de France, Paris: France 29 - Australia 26
Saturday 19 November 2016 at Stade de France, Paris: France 23 – Australia 25
ITA V AUS
Italy take on Australia at TBC on Saturday 21st November 2020.
Summary of matches between Australia and Italy
Matches Played:18
Won by Australia: 18
Won by Italy: 0
Drawn: 0
Last 5 Matches
Sunday 11 September 2011 at North Harbour Stadium, Auckland: Australia 32 – Italy 6
Saturday 24 November 2012 at Stadio Artemio Franchi, Florence: Italy 19 – Australia 22
Saturday 9 November 2013 at Stadio Olimpico di Torino, Turin: Italy 20 – Australia 50
Saturday 24 June 2017 at Suncorp Stadium, Brisbane: Australia 40 – Italy 27
Saturday 17 November 2018 at Stadio Euganeo, Padova: Italy 7 – Australia 26
ENG V AUS
England take on Australia at Twickenham Stadium in London on Saturday 28th November 2020. Twickenham Stadium is a rugby union stadium in southwest London and is owned by the governing body of rugby union in England, the Rugby Football Union (RFU) and hosts home test matches for the England national rugby union team.
Twickenham Stadium is the largest stadium in the world dedicated to the sport of rugby union (82,000 seating capacity), the second largest stadium in the United Kingdom behind Wembley Stadium and the fourth largest stadium in Europe.
The land on which Twickenham Stadium sits was purchased in 1907 by the RFU and converted into a rugby pitch. In 1909 the ground hosted its first match as Richmond played Harlequins and in 1910 hosted its first Test match as England took on Wales in front of 20,000 spectators. Over the years Twickenham has seen a number of redevelopments over the years with the latest being the completion of the new South Stand in 2006 to take the stadium to its current 83,000 seating capacity.
The Wallabies have struggled over the last decade against England winning only 3 of the 14 matches played between the two teams (two of the wins were at Twickenham). The last time Australia beat England was when they knocked England out during the pool stages of the 2015 Rugby World Cup. In the most recent match between the two sides England returned the favor knocking the Wallabies out at the Quarter Final stage of Rugby World Cup 2019 in Japan.
Summary of matches between Australia and England
Matches Played:51
Won by Australia: 25
Won by England: 25
Drawn: 1
Last 5 Matches
Saturday 25 June 2016 at Sydney Football Stadium, Sydney: Australia 40 - England 44
Saturday 3 December 2016 at Twickenham, London: England 37 – Australia 21
Saturday 18 November 2017 at Twickenham, London: England 30 – Australia 6
Saturday 24 November 2018 at Twickenham, London: England 37 – Australia 18
Saturday 19 October 2019 at Ōita Stadium, Ōita, Japan: England 40 – Australia 16
Register your interest in this tour
The following questions have been uploaded to assist us with planning which packages our customers prefer. Please note that this is not binding & only an indication of what you would be interested in.
To register your interest for this tour & upload your preferences you must be registered as a member of this website.If you are a member & not logged in yet, click here to
Login
.
Login
Register as a member
---